Basement Air Systems
South Dakota | Nebraska | Wyoming
Choosing the Best Dehumidifier for your Home
SaniDry™ Sedona System
Features & Benefits
Stops mold growth, musty odors & dust mites

Eliminates muggy feeling caused by high humidity

Relieves asthma and allergies

Lowers electricity costs over time
If your basement or crawl space is still damp and musty and you already have a dehumidifier then it's obvious the unit you have is not doing the job.
Dehumidifiers are set to shut off at a predetermined level of dryness. If your unit never shuts off then the space never reaches an acceptable level of dryness. What's worse is if your dehumidifier has a collection tray. You can expect it to fill up every 12 hours or so; if you aren't emptying it regularly then your unit is hardly working at all!
There are a lot of factors to evaluate when shopping for a dehumidifier. To help you choose the best solution for your basement or crawl space Blackburn Foundation Repair will tell you the five key features that make our dehumidifier one of the best. If you would like to learn more about basement or crawl space dehumidifiers, or would like a price quote, call or contact us today for a FREE, no obligation estimate.
1. Your Dehumidifier Should be Powerful Enough to do the Job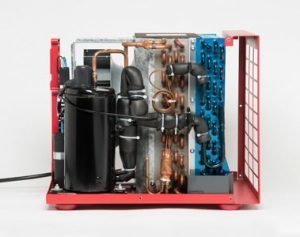 The most common complaint from homeowners who have purchased a dehumidifier is that it runs constantly but the basement is still damp. The end result of this kind of purchase is a damp, moldy space AND a higher energy bill.
One solution is to buy a second dehumidifier, however this is an expensive and ineffective solution. Twice as many dehumidifiers means twice the noise, twice the energy usage and very often a basement that is still damp! The best solution is to buy a unit that is designed to completely dry the area in question.
The SaniDry Dehumidifier is capable of dehumidifying an entire basement in an energy-efficient manner. It uses a powerful blower motor that sends dry, dehumidified air throughout the space.
2. Find an Energy-Efficient Dehumidifier
Few dehumidifiers are Energy Star rated but those that are feature reduced energy use that can save you money. The best rated dehumidifiers can run twice as long and use only two-thirds as much electricity, which can amount to considerable savings over the life of the unit.
If you are still concerned with the energy usage of your dehumidifier you may want a model that allows you to adjust the level of dryness. This way you can set it on high for an environment that will be easiest on your cooling bills (dry air is easier to cool than humid air) or you can set it so that the area is just dry enough to inhibit mold growth.
3. Install a Self-Draining Dehumidifier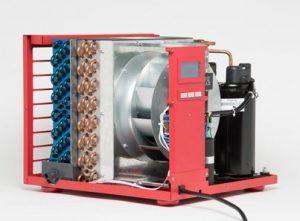 Dehumidifiers that can be bought at the hardware store or home center have a tray that will fill every 12 hours or so. To keep your basement dry with one of these units you would have to empty the tray at least 14 times a week or more! Human nature being what it is as time passes the tray gets emptied less and less frequently. If you get to the point of only emptying the unit once a week the unit is working only 7% of the time while the humidity in your basement goes unchecked 93%!
Your time and energy are too valuable to be used emptying collection trays so why bother when a quality unit can do it for you. Our basement or crawl space dehumidifiers can be set up so they will drain into a sump pump, sink, or any available opening. They can even be hooked to a condensate pump so that the water is discharged through the rim joist.
No matter which option you choose, your dehumidifier will be much more convenient and effective if it is a self-draining model.
4. Your Dehumidifier Should Include an Air Filter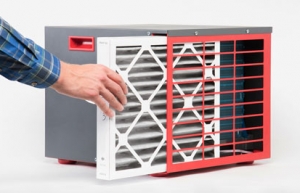 If all you're doing is dehumidifying the space you're doing only half the job. A dehumidifier that provides air filtration as well. Some dehumidifiers offer filtration that can remove particles in the air as small as 2 microns while they dehumidify the space.
These systems do not purify the air but they do filter dust mite waste, mold spores and a wide variety of home allergy causing agents that are commonly found in a basement or crawl space.
5. Duct your Dehumidifier into the Finished Space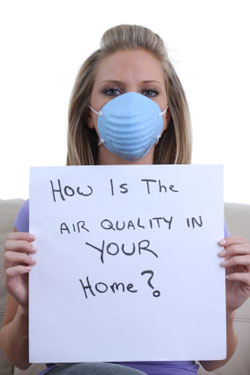 The last thing people want to see in a finished basement is a dehumidifier in the corner. This situation is easily solved by installing the unit in a closet or in an unfinished area of the basement.
If this option is used the dehumidifier must have a blower that is powerful enough to allow the air to be ducted out of the space such that the entire finished area will be kept dry.
Basement And Crawl Space Dehumidifier
Blackburn Foundation Repair has the crawl space and whole basement dehumidifiers you need to keep your spaces dry. Our SaniDry Basement Dehumidifier is an Energy Star rated solution that will keep your space dry while saving energy. It is a self-draining unit with a powerful blower that sends dry air throughout the basement or crawl space.
Adding an air filter can remove dust mite waste, mold spores and pollen, while the optional odor filter makes the air smell fresh and clean as well.
For a free, no obligation quote on a dehumidifier solution please call or contact Blackburn Foundation Repair of South Dakota, Wyoming and Nebraska today!