WaterGuard
South Dakota | Nebraska | Wyoming
What causes basements to leak?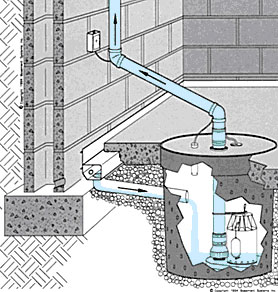 Hydrostatic pressure, the pressure exerted by a fluid due to gravity, is the primary reason for basement leaks. Surface water saturates the ground putting pressure on the walls of your foundation. This pressure pushes water through the pores, joints and any cracks that may be in concrete walls and floors, causing leaks. The solution? A permanent basement waterproofing system installed by Blackburn Foundation Repair.
Our system works like this:
Small holes, called weep holes, are drilled through the basement walls near the bottom.
Water that would have seeped through the walls now drains through the weep holes into the Waterguard® system, which lines the walls at floor level.
The water is collected and drains into the TripleSafeTM sump pump system, where it is pumped outside.
Blackburn installs sump pumps, SaniDry Dehumidifiers, and other basement waterproofing products in South Dakota (including Aberdeen, Watertown, Sioux Falls, Miller, and Rapid City), Wyoming and Nebraska.
WaterGuard Basement Drainage System
Download our WaterGuard Brochure


[964 KB]
Keeping a basement dry has been a challenge for over a century. Contractors have used many methods over the years with varying degrees of effectiveness, though none have been completely successful. Most drainage pipes, the most widely used method, sit at the bottom of the wall and get covered with soil, leading to clogging over time. What good is a system that gets clogged from soil that will then allow your basement to get wet?
Our WaterGuard sub-floor drainage system:
Is engineered specifically to drain water from your basement without clogging.
Has a special wall flange with a space between the floor and the wall to drain away all wall seepage while not allowing dirt and debris from the basement floor to enter.
Has perforations in the back of the pipe to let water flow into the system from below as well as above.
Is the winner of the CQIA Innovation Prize.
WaterGuard is patented in the United States, Canada and the United Kingdom. Our state-of-the-art WaterGuard system is just what you need!