Crawl Space Products
South Dakota | Nebraska | Wyoming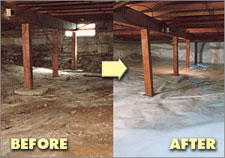 Blackburn Foundation Repair knows that the old crawl space design is not adequate for a long-lasting, healthy crawl space and home. crawl spaces all over South Dakota suffer from mold, rot, structural sagging and countless other moisture related issues that can be traced back to crawl space vents, dirt crawl spaces and other ineffective building practices.
Blackburn Foundation Repair is proud to offer its customers the Basement Systems Network CleanSpace crawl space Encapsulation System. The system consists of crawl space vapor barriers, crawl space encapsulation products, crawl space vents and doors, crawl space sump pumps, dehumidifiers and crawl space structural supports that in combination give us a solution for any and all your crawl space needs. We offer the following patented, warranted products to help keep your crawl space dry.
CleanSpace Crawl Space Vapor Barrier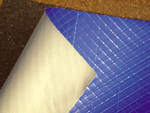 The CleanSpace Crawl Space Vapor Barrier is a 20 mil thick polyethylene liner that is similar to a swimming pool liner. It is constructed with seven layers of both high and low-density polyethylene and two layers of polyester cord for reinforcement that combine to make our liner tear-resistant and durable. A lifetime warranty assures you of long life and durability that allows homeowners and service personnel alike to access the area with no fear of damaging the material. Once the entire system is installed the crawl space will be completely isolated from outside air and earth and can even make the area usable for storage, freeing up space in your home.
Your home will have less moisture and humidity, winter and summer, so it will be better preserved and energy efficient with CleanSpace installed. With the white outer layer and UltraFresh antimicrobial additive your crawl space will look bright and clean for years to come.
Blackburn Foundation Repair offers free estimate for CleanSpace crawl space vapor barrier systems in South Dakota, Wyoming and Nebraska. Contact us for a free estimate today!
CleanSpace Drainage Matting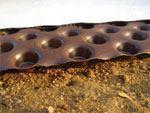 Blackburn Foundation Repair recommend that crawl spaces with dirt or concrete floors can usually benefit from the installation of drainage matting underneath the crawl space vapor barrier. The mat is created from dimpled polyethylene matting that creates raised spaces that direct any water on top of the floor to be guided to the sump pump system and out of the structure. With no water under the CleanSpace vapor barrier the system stays safe and healthy.
Contact us for a free estimate for crawl space waterproofing in South Dakota, Wyoming or Nebraska.
WallCap Block Wall Treatment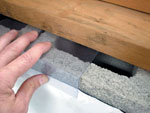 Installing a vapor barrier in a crawl space comes with one important challenge; covering the entire wall to prevent moisture from passing through. If the wall and floors were covered with an opaque covering how would termite and other pest inspectors check for infestation?
Proper installation of a crawl space barrier in Sioux Falls, South Dakota should be installed with space left around the entire edge to accommodate these inspections. In this way the common signs of infestation, such as mud tubes, can be easily seen without the need to remove the vapor barrier.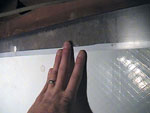 However, covering the tops of the block walls will protect your home from the enormous amount of exposure that block wall openings add to the home, preventing moisture from passing upwards behind the CleanSpace barrier and then into the crawl space air.
The product we use to solve this dilemma is called WallCap and is available only through the Basement Systems dealer network in South Dakota. It is a clear cap that attaches to the top of the wall while allowing easy visual inspections.
Contact Blackburn Foundation Repair for a free crawl space inspection and estimate.
Crawl Space Vent Covers, Doors and Access Wells
When the decision is made to upgrade your crawl space it is important to seal off all outside air. This means that not only should a vapor barrier be installed on the walls and floors all vents, doors and other openings in the area must be sealed as well. Crawl space vent covers and doors made of airtight materials that won't rot, rust or corrode are the answer.
Crawl Space Vent Covers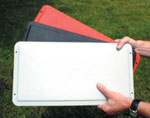 Blackburn Foundation Repair, building scientists and the US Department of Energy all agree that a vented crawl space in any climate is a bad idea. Hot summer air flowing into a cool crawl space will cause the air to cool, raising the relative humidity. This moisture will deposit on all surfaces in the crawl space making the wood damp, allowing mold to flourish and that fosters an environment that is ideal for termites.
In winter the cold air cools down pipes, furnaces and ducts, water heaters and the floorboards making the floor uncomfortable to walk on and raising utility bills.
Crawl Space Doors
To be properly protected against moisture it is important to seal the entire crawl space. If the vents are sealed and a vapor barrier is installed but you still have an unsealed crawl space door then the area is not fully protected and who wants to deal with a rotten poorly-sealed door?
The Basement Systems EverLast Crawl Space Door is an all plastic door that will never rot, warp or need paint. It mounts to the opening of the crawl space using four screwed knobs with a layer of weather stripping to keep out air infiltration. It's the perfect compliment to the vent cover seals.
Crawl Space Access Wells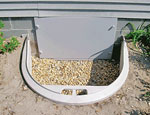 A sealed crawl space can be turned into usable storage space for personal items. The EverLast Crawl Space Access Well makes your crawl space entrance attractive and keeps it clean as well.
The EverLast Crawl Space Access Well is large enough to provide crouch down access to the crawl space. Its durability holds back soil, adding nicely to your yard's landscaping while providing years of trouble free access.
Blackburn Foundation Repair installs airtight crawl space doors and crawl space vent covers. These, combined with the CleanSpace vapor barrier, will turn the crawl space into part of the housing envelope and keep outside moisture from intruding. Contact us for a free crawl space estimate.
The Turtl Crawl Space Access System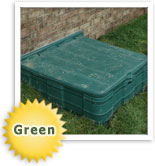 Notorious for their ugliness, crawl space access wells are one of the most deteriorated and neglected areas of your home. Outside air, humid in summer and frigid in winter, leaks in infecting your crawl space with outside contaminates, humidity and moisture.
The Turtl System provides an alternative to our Crawl Space Access Well. It provides a durable crawl space entrance that seals outside cold, moisture and debris. Made of heavy-duty materials it is secure, lockable and will never rot, rust or corrode. It will stay clean and great-looking for years and years. There is nothing like it in South Dakota for your crawl space door needs. The Turtl system comes in green, brown or beige.
SaniDry CSB Crawl Space Dehumidifier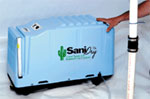 Humidity in the crawl space has been an issue for South Dakota homeowners since the first crawl space was put under a home. Unchecked humidity will lead to rotten floors and joists, buckling floors, odors, mold, mildew, and insect or other pest infestations. Worse is this foul air is drawn into the home potentially causing health issues for you and your family.
Blackburn Foundation Repair knows how serious a problem this is and offers the SaniDry CSB crawl space dehumidifier, the best dehumidifier on the market! Energy Star rated this dehumidifier uses one third less electricity of competitive units but is more powerful. The SaniDry uses a 200 CFM blower that sends dry air circulating throughout the crawl space. In time this unit will even dry out wooden piers and sub-floors. When you attach the output to a drain the unit will automatically push the water it collects out of your home, eliminating the need to empty dehumidifier trays. The filter installed with each unit filters particles as small as 2 microns from the air, removing dust mite waste and most mold spores. With this unit your craw space air will be healthier than ever!
Contact Blackburn Foundation Repair for a free moisture control estimate.
Crawl-O-Sphere Crawl Space Fan
For the budget-sensitive homeowner an alternative to dehumidification of the crawl space Blackburn offers the Crawl-O-Sphere crawl space fan. The Crawl-O-Sphere is designed to pull a small portion of air from the home above into the crawl space area. This fan uses air already inside the home so it is already conditioned and is dryer than outside air, offering a quiet, energy-efficient solution on a budget.
These fans are installed along with the CleanSpace crawl space vapor barrier and with Blackburn Foundation Repair' airtight crawl space vent covers, so that the air it moves is all part of the home air space. This means that there will be almost no additional increase to your energy bills. At 18 watts the Crawl-O-Sphere is a quiet, energy-efficient solution for the budget minded homeowner.
Contact Blackburn Foundation Repair for a free moisture control estimate.
SmartSump Crawl Space Sump Pump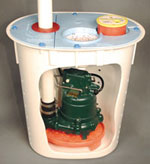 Keeping the crawl space dry is paramount so flooding must be addressed. Blackburn Foundation Repair of South Dakota, Wyoming and Nebraska offers the SmartSump Crawl Space Drainage Systems from the Basement Systems Network.
The SmartSump sump pump is made of cast iron, features a heavy-duty liner and a 1/3 horsepower motor. Using a stand at the bottom of the sump keeps the pump away from any residue that may collect in the sump. With a WaterWatch alarm on the top the homeowner will be warned of sump pump failures or plumbing leaks. The built-in ball-in-cup design allows water to be drained away while remaining airtight, making it a perfect solution for your crawl space needs.
The SmartSump crawl space sump pump accepts the optional battery backup UltraSump system to increase your peace of mind in the event of a power failure. The UltraSump will also turn on in the event your primary pump fails or becomes overwhelmed, pumping an amazing 11,500 gallons on a single charge. This will usually be more than enough to keep you safe and dry, so you can sleep easy knowing your home is protected.
Contact Blackburn Foundation Repair for a free moisture control estimate.
SmartDrain Crawl Space Drain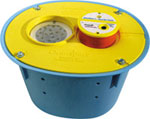 If a crawl space sump pump is more than you need we have an option that will easily and cost-effectively protect your South Dakota crawl space in the event of a plumbing leak. The SmartDrain Crawl Space Drain. This drain can be added to the CleanSpace system without compromising it and includes the WaterWatch alarm. The WaterWatch alarm will sound, warning you of a leak should one occur. Water entering the crawl space will automatically be drained underneath the liner and into the earth below. This is a great solution for your crawl space for those who don't require a full sump pump solution.
Contact Blackburn Foundation Repair for a free crawl space drain estimate.
SmartJack Crawl Space Support System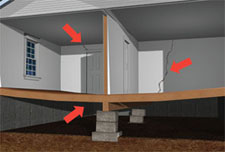 Poor soil under your foundation, support columns that have settled or are improperly spaced are, sadly, all too common crawl space problems. They can lead to sagging and other signs of failure. If your home is experiencing any of these problems rebuilding and replacing the structure is not your your only option. The SmartJack Crawl Space Foundation Support System provide Sioux Falls and other South Dakota communities with this cost-effective, superior solution. SmartJack is fully compatible with the CleanSpace Crawl Space Encapsulation System and will provide immediate stabilization, just the result you need!
The SmartJack System provides numerous advantages over less desirable, old-fashioned methods that are still in use in many areas. Concrete columns are used by some contractors to repair sagging structure in crawl spaces but this is a time-consuming repair because you have to wait for the concrete to cure. Additionally shimming will most likely be needed because these supports are not adjustable. Additional shimming may be required down the road as conditions change. Concrete piers do not lift the floors or walls and can potentially damage the area. Light-duty jack-posts, another alternative, do not solve the poor soil issue and they too are difficult to adjust.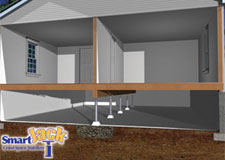 The SmartJack system eliminates all these shortcomings with galvanized steel crawl space support columns for your South Dakota crawl space. These columns can bear vertical loads up to 60,000 pounds each. These supports can be installed in less than a day, saving you on installation time. Their specially engineered design will efficiently transfer the loads to existing soils, even poor soils found in a lot of crawl spaces. These easily adjustable columns allow the opportunity to carefully return the structure to near its original position.
Blackburn Foundation Repair in South Dakota, Nebraska and Wyoming would like to help you restore the structure, comfort, and property value of your home to its maximum potential. If you'd like a free, no obligation crawl space encapsulation or crawl space structural repair estimate, call or contact us online today!