Basement Waterproofing, Foundation Repair and Crawl Space Repair, Concrete Leveling and Lifting
Milbank, South Dakota

For more than two decades, Blackburn Foundation Repair has provided superior foundation and crawl space repair and basement waterproofing services to homeowners in South Dakota. Our dedication to offering the most exceptional expertise and techniques has earned us certification with Supportworks, Inc. and Basement Systems Network membership privileges. Our valued clients in Milbank, South Dakota are keeping warm and dry thanks to our solutions, and so can you:
Get a free repair estimate from Blackburn Foundation Repair or call toll-free at (800) 392-3389 if you have any concerns about your home's basement, crawl space or foundation.
Basement Waterproofing – Milbank, SD
Although Milbank, South Dakota is named in honor of a historical railroad director, water need not have a one-way ticket into your basement. Our first-class contractors and structural engineers can help you derail your wet basement problems. We have designed our patented WaterGuard Basement Drainage System to reroute the flow of water efficiently and reliably, improving on other popular drainage systems by addressing a number of common issues, such as by:
Preventing blockages and buildups in sub-floor drains
Eliminating the perimeter gaps that collect dirt and debris
Utilizing perforated pipe at the rear to capture water from below
Pairing with a sump pump to remove collected water
Foundation Repair – Milbank, SD
It may be tempting to ignore any small cracks and imperfections in your foundation, but these issues are best addressed as soon as possible. A damaged foundation can lead to further structural issues in the walls and ceilings of your home, and it can even affect your plumbing. You can prevent insurmountable damage to your home in the future by calling Blackburn Foundation Repair today. Our specialists can then install the SmartJack Crawl Space Foundation Support System, which features the following:
Heavy-duty galvanized steel support columns
Foundation earth and wall anchors
Push piers
Custom crawl space piers and reinforcements
Crawl Space Repair – Milbank, SD
Summers in Milbank, South Dakota can get pretty humid, leading to sticky floors and tacky wall surfaces in any poorly insulated areas of your home. Even cold winter temperatures can lead to condensation passing through to your tile floors above. When the problem is humidity and condensation entering the crawl space itself, sealing the space with our CleanSpace Moisture Management System can save you a lot of cash and headaches in the long run. The CleanSpace Moisture Management System includes:
A durable plastic moisture barrier of 20 mils thickness to keep dry and insulated
Resistance to dirt and chemical pass-through along with harmful mold
A passive radon mitigation system to reduce radon gas levels in the home
A 25-year warranty against deterioration
Concrete Leveling and Lifting | PolyLEVEL™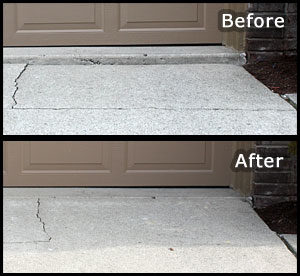 Have you noticed dangerous cracks and uneven surfaces forming in your driveway, sidewalk, concrete steps, or patio?
Having problems with sunken outdoor concrete is not unusual in Milbank, SD where soil erosion is often the result of the changing seasons and a weak soil base.
While other contractors may rely on short-term fixes such as mudjacking or slabjacking, we use the revolutionary PolyLEVEL™ material to fix unsettled soil and to level concrete. PolyLEVEL™ is able to physically lift your concrete slabs and return them to their desired level positions while also leveling the ground underneath. This process prevents continued soil settlement, cracking and uneven concrete in the future.
The benefits of PolyLEVEL™ include:
Affordable
Fast-acting
Adjustable
Noninvasive
Environmentally-friendly
Strong and lightweight
Waterproof
Call Blackburn Foundation Repair
We are a member of the Basement Systems Network, which provides the most high-quality systems and is one of the world's largest waterproofing networks.
Get a free repair estimate from Blackburn Foundation Repair or call toll-free at (800) 392-3389 if you have any concerns about your Milbank, South Dakota home basement, crawl space or foundation.