Basement Waterproofing, Foundation Repair and Crawl Space Repair, Concrete Leveling and Lifting
Sturgis, South Dakota

Since 1992, Blackburn Foundation Repair has been serving customers in South Dakota with the best solutions for basement waterproofing, foundation repair and crawl space repair. Our membership in the Basement Systems Network allows us to keep abreast of the latest techniques and products in the industry. That knowledge along with our years of experience helps us solve water and structural problems with less expensive and neater techniques that save time and money for you.
Get a free repair estimate from Blackburn Foundation Repair or call toll-free at (800) 392-3389 if you have any concerns about your home's basement, crawl space or foundation.
Basement Waterproofing – Sturgis, SD
Water leaks into basements through floors, walls and joints, causing numerous problems and damage. Installing a drainage system around the interior edges along with a sub-floor is a good solution. However, the drains can eventually clog with mud and lose their effectiveness. In addition, the gap often found around the edges may be unsightly, and it can accumulate dirt and debris that contribute to clogged drains.
Designed to solve problems with basement waterproofing, our WaterGuard basement-drainage system provides a permanent solution for wet basements.
Exclusively created to resist clogging
Keeps basements dry
Unique wall flange keeps dirt out of space that traps seepage from walls between floor and walls
Pipe perforated at the rear traps water coming up from below as well
Foundation Repair – Sturgis, SD
The first indications of foundation failure may be little things like windows or doors that stick and small cracks in drywall or plaster. As a leader in the industry, Blackburn Foundation Repair provides superior, permanent foundation repair. Our professional contractors and structural engineers specialize in various techniques to repair weakened or failing foundations.
Piering and reinforcing crawl space
Foundation wall anchoring
Foundation earth anchoring
Installing push piers
Crawl Space Repair – Sturgis, SD
A crawl space can be a damp place that harbors mold, mildew, odors and rotting wood. Cold, winter air in a crawl space can make the floor above it cool, cause your water heater and heating system to work harder and raise your energy bills as well.
Our certified, trained contractors from Blackburn Foundation Repair can solve your problem with crawl space repair that includes encapsulating your space with our CleanSpace Moisture System.
Plastic vapor barrier 20 mils thick for durability
Keeps the area dry
Lifetime warranty
Resistant to mold
Provides passive radon mitigation
Concrete Leveling and Lifting | PolyLEVEL™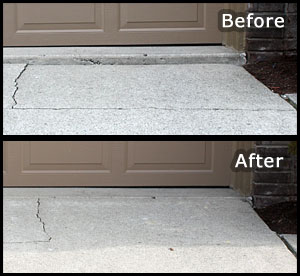 Have you noticed dangerous cracks and uneven surfaces forming in your driveway, sidewalk, concrete steps, or patio?
Having problems with sunken outdoor concrete is not unusual in Sturgis, SD where soil erosion is often the result of the changing seasons and a weak soil base.
While other contractors may rely on short-term fixes such as mudjacking or slabjacking, we use the revolutionary PolyLEVEL™ material to fix unsettled soil and to level concrete. PolyLEVEL™ is able to physically lift your concrete slabs and return them to their desired level positions while also leveling the ground underneath. This process prevents continued soil settlement, cracking and uneven concrete in the future.
The benefits of PolyLEVEL™ include:
Affordable
Fast-acting
Adjustable
Noninvasive
Environmentally-friendly
Strong and lightweight
Waterproof
Help is Available in Sturgis, SD Today
Get a free repair estimate from Blackburn Foundation Repair or call toll-free at (800) 392-3389 if you have any concerns about your home's basement, crawl space or foundation.