Basement Defender™ Sump Pump System
South Dakota | Nebraska | Wyoming
How do you know your sump pumps are working?
Basement Defender™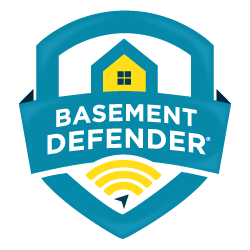 The only way to ensure your pumps are properly working is to test them EVERY DAY.
Basement Defender™ is the only system that TESTS sump pumps every morning and ALERTS to problems before an emergency situation.
It's like having a service technician watching your sump pit activity 24/7.
Every morning, Basement Defender™ activates primary and battery backup pumps to run for a few seconds. We like to think of it as exercising the pumps, so they're in perfect shape to spring into action when you need them to do their job.
Even more, Basement Defender™ is constantly watching for changes in the sump system, like pump activity, battery strength, amperage/voltage and environmental factors like temperature and humidity. When a concern is detected, Basement Defender™ instantly sends an alert to you via text, app notification, or even email. Basement Defender™ is a proactive approach that give ultimate peace of mind in your sump pump system.
Basement Defender™ Features
At 8 AM daily (Eastern Time) the system tests your primary and backup pumps, including:

AC & DC pumps
Temperature
Humidity level
Battery
Charger
WiFi signal strength

Alerts you when issues are detected via email, text, and app notifications
Detects any significant changes using temperature and humidity sensors
Sends alerts and syncs data using your Wi-Fi network
You can use the mobile app to check on the system even when you're away from home

Central to keeping your basement dry is a quality sump pump. Blackburn Foundation Repair will help you find the right sump pump system for your South Dakota, Wyoming or Nebraska application. No matter what sump pump solution you need you can rest easy that you are getting the best when you go with Blackburn!
Call 1 (800) 392-3389 to get a free estimate for your sump pump needs today, whether you're in the Sioux Falls area or anywhere else in South Dakota, Wyoming or Nebraska by calling us or visiting us online. Blackburn Foundation Repair is your one stop shop for all your sump pump needs in South Dakota, Wyoming or Nebraska.