Case Study: PolyLevel Project: Rapid City Waste Water Facility
Location: Rapid City, SD
Date: October 2016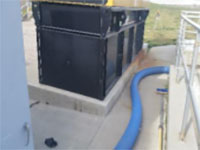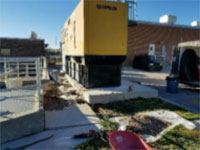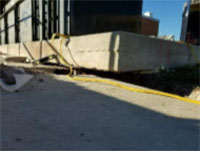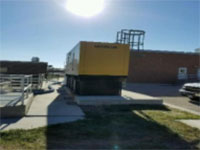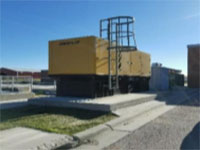 Problem:
The one foot thick, and 9 foot wide by 20 foot long, concrete slab poured to support the city's 27,000 pound generator for the waste water facility plant failed, and had settled over 3 1/2 inches on the West side of the slab. The generator itself, which was 5 foot wide by 15 foot long, was never placed in the center of the slab from the start, and gradually settled over the course of a few years, causing the generator to tip, potentially causing major future damages to the generator.
Solution:
Blackburn Foundation Repair went in and lifted the slab back to near level, using a high-density polyurethane foam called "PolyLevel." The installation process began with Blackburn Foundation Repair cutting out small sections of the sidewalk next to the generator, then temporarily using a bottle jack system to support and lift the concrete pad back to level. The last parts of the solution were the injection of 136 pounds of the lightweight PolyLevel foam, filling in all the voids under the concrete pad, while removing the temporary jacks. After the PolyLevel hardened enough to support the concrete pad at a level position, the concrete holes were then re-poured, completing the project.
Results:
The installation of the 136 pounds of PolyLevel foam were installed and the generator's concrete slab was lifted back to near level. The entire installation process went extremely well, and the project was completed ahead of schedule in only one day's time.
Project Summary
Installing Contractor: Blackburn Foundation Repair
Production Manager: Clyde Jones-Rapid City Utilities Department
Project Manager: Walker Berry-Blackburn Foundation Repair
Products Installed: 136 lbs of PolyLevel Foam