Crawl Space Encapsulation
South Dakota | Nebraska | Wyoming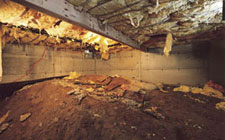 Humidity enters the crawl space through the vents during summer, while frigid air enters during the winter. These forces combine to from a continuous drain on your utility bills as well as causing moisture damage to the structure under your home. Additionally all types of insects and pests can enter your home through them as well.
All these problems can be mitigated by using a three-prong attack. By installing a simple crawl space vapor barrier, airtight crawl space vent covers and doors, and a crawl space dehumidifier you can virtually eliminate the problems that have plagued crawl spaces since the day they were first installed. Read on to see the steps we take to install a crawl space encapsulation system, or click here to sign up for a free estimate and inspection on a crawl space moisture barrier system in your South Dakota, Wyoming or Nebraska home!
Step 1: Install Airtight Crawl Space Doors and Vent Covers
Sealing crawl space vents stops the cycle of moisture and cold that are constantly entering your home year-round. Covering the vents with an airtight seal will go a long way towards making your home more energy efficient.
Old-fashioned crawl space doors are most likely not airtight either so it is important to replace them with new, airtight ones when you seal the vents to ensure that the crawl space is protected from outside air infiltration.
Step 2: Remove any Standing Water in the South Dakota, Wyoming or Nebraska Crawl Space and Stop all Flooding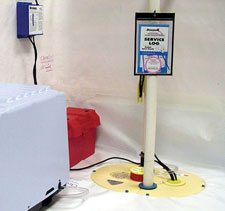 If your crawl space has experienced flooding that problem must be addressed before any permanent solution can be made. By installing a crawl space sump pump along with a drainage swale that will direct all water to it is the best way to deal with groundwater flooding in South Dakota, Wyoming or Nebraska and the surrounding areas.
Plumbing failures can also introduce water into a crawl space. Since homeowners don't enter their crawl spaces on a regular basis plumbing leaks have been know to go unnoticed for extended periods of time. Since you don't want water from a plumbing leak flooding your newly dry crawl space be sure to fix all leaks before the crawl space repair is begun and plan checks every quarter, just to be sure.
Step 3: Encapsulate the Crawl Space
The third step in preventing moisture from seeping into upwards from the earth into crawl spaces is to install a rugged, tear-resistant plastic vapor barrier into your South Dakota, Wyoming or Nebraska home. The vapor barrier installed by Blackburn Foundation Repair is seven layers of polyester cord, high and low-density polyethylene and is 20 mils thick. The best color for this barrier is white as it makes use of available light to improve illumination of the space through reflection. With block walls a visible area for termite inspection can be accommodated by the use of clear plastic caps on the tops of walls thereby allowing full vapor barrier protection while still allowing an area for inspection.
Step 4: Install a Dehumidifier in your Damp South Dakota, Wyoming or Nebraska Crawl Space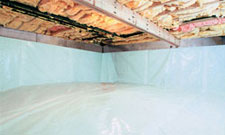 When the crawl space is fully sealed it is a good idea to install a crawl space dehumidifier system. Homes will retain whatever humidity was in the wooden structure even after encapsulation. A dehumidifier will dry the wood out and make sure that any future moisture is removed from the space. The SaniDry crawl space Dehumidifier installed by Blackburn Foundation Repair is a self-draining, powerful unit that is Energy Star rated and will provide years of trouble free service while doing the job you need it to.
No matter what your needs in your basement or crawl space, Blackburn Foundation Repair of South Dakota, Wyoming and Nebraska can help. For a free, no-obligation crawl space vapor barrier installation quote, call or e-mail us today.