Rapid City - Basement Waterproofing, Foundation Repair, Crawl Space Repair & Encapsulation
Also Offering Concrete Leveling & Radon Testing & Mitigation

Blackburn Foundation Repair is a regional leader in foundation and crawl space repairs and basement waterproofing in Rapid City, SD. Since our company's establishment in 1992, we have been solving structural repair issues and improving our techniques to provide our customers with cost-effective solutions that stand the test of time. There are a number of challenges that you can encounter when you are faced with foundation and crawl space repairs. It is nice to have access to experienced specialists who can accurately troubleshoot structural problems and make the appropriate repairs.
Get a free repair estimate from Blackburn Foundation Repair or call toll-free at (800) 392-3389 if you have any concerns about your home's basement, crawl space or foundation.
Basement Waterproofing – Rapid City, SD
Rapid City is the largest and fastest-growing metropolitan area in South Dakota. This accounts for steady increases in the number of new construction homes in the area. Basements are attractive options because they maximize the usable square footage of properties. However, constructing moisture-resistant, underground interior space is a challenge that has been around since early engineers designed the first basements.
When you choose Blackburn Foundation Repair for your basement waterproofing needs, you gain the benefits of the latest technology and innovative construction techniques in the industry. For complicated basement waterproofing jobs, we do not operate alone and neither should you. Blackburn Foundation Repair is a member of the internationally-recognized Basement Systems Network. Here's what this partnership means to you.
Use of highly effective interior sub-floor design that helps to move water away from your basement
Expert installation of the Basement Systems Network's patented WaterGuard Basement Drainage System that resists clogging
Permanently dry basements
Improved home value
Foundation Repair – Rapid City, SD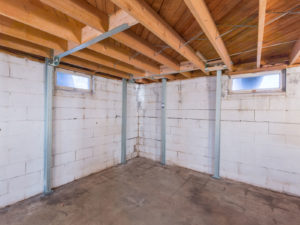 Your home is one of your most valuable assets. When you suspect that your foundation is in need of repair, it is best to call the experts right away before matters get worse. Here are some of the warning signs that your foundation may be in need of some care.
Noticeable split or space between ceilings and finish work.
Windows that stick shut
Nail pops
Interior dry wall cracks
Because not all foundation repair problems are the same, our seasoned structural engineers and construction experts use a variety of foundation repair techniques. Some foundation support solutions include foundation earth anchoring, installation of wall anchors and the positioning of push piers. We specialize in bringing peace of mind to our Rapid City, SD customers with accurate problem assessments, state-of-the-art foundation repair solutions, premium materials and outstanding customer service.
Crawl Space Repair – Rapid City, SD
One of the most common signs of foundation failure is a sagging floor in homes with crawl space foundations. Our featured solution for this type of problem is the SmartJack Crawl Space Support System. This leading-edge system uses galvanized steel to support sagging floor beams and joists. Since the SmartJack is adjustable and easy to install, it is a superior solution over concrete columns and light-duty jack posts. Besides crawl space foundation repair solutions, our technicians can also seal your home's crawl space to prevent structural damage and household illnesses that are caused by mold, mildew and rot.

Concrete Leveling and Lifting | PolyLEVEL™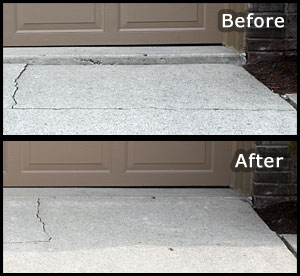 Have you noticed dangerous cracks and uneven surfaces forming in your driveway, sidewalk, concrete steps, or patio?
Having problems with sunken outdoor concrete is not unusual in Rapid City, SD where soil erosion is often the result of the changing seasons and a weak soil base.
While other contractors may rely on short-term fixes such as mudjacking or slabjacking, we use the revolutionary PolyLEVEL™ material to fix unsettled soil and to level concrete. PolyLEVEL™ is able to physically lift your concrete slabs and return them to their desired level positions while also leveling the ground underneath. This process prevents continued soil settlement, cracking and uneven concrete in the future.
The benefits of PolyLEVEL™ include:
Affordable
Fast-acting
Adjustable
Noninvasive
Environmentally-friendly
Strong and lightweight
Waterproof
Radon Testing and Mitigation in Rapid City, SD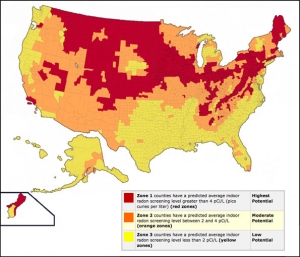 Keeping your Rapid City, SD home properly maintained serves as a protection for yourself and your loved ones. It ensures your home is a safe place for everyone who enters it. However, there is a hidden threat to your home and the safety of your family that many people don't give realize occurs.
Radon is a radioactive, invisible and odorless natural gas that exists in the ground, drinking water, rock formations, building materials, and many other natural outdoor elements. Radon is classified as a carcinogen, which means that exposure to high levels of this natural gas can increase a person's risk of developing lung cancer. Second only to tobacco use, radon is classified as one of the leading causes of lung cancer in the United States.
With professional radon testing, you can learn the radon level in your home in as little as 48 hours, with accurate and trustworthy results each time. If your home is found to have radon levels that are too high, we also provide detailed radon mitigation systems to help eliminate the existing radon from your home and stop more from coming into your home in the future. Our trained specialists can perform every step of the process, eliminating stress and worry from your life and getting your family back on the road to healthy living.
Call Blackburn Foundation Repair
We understand that discovering structural and moisture damage to foundations, crawl spaces and basements is frustrating. That is why we make the repair process hassle-free by offering no-obligation, free estimates. Our work is also guaranteed for the life of the structure. If you live in the Rapid City, SD metropolitan area, call us today to find out how we can help you to protect your real estate investment.
Get a free repair estimate from Blackburn Foundation Repair or call toll-free at (800) 392-3389.