Concrete Leveling and Lifting Services | PolyLEVELTM
Areas Served: South Dakota, Nebraska, Wyoming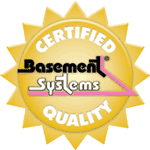 Sunken concrete is a serious problem in South Dakota, Nebraska and Wyoming. It can affect sidewalks, steps, patios and walkways. The uneven surfaces can be dangerous for children, elderly adults and people with certain medical conditions. People who have difficulties with coordination or balance may be susceptible to a variety of injuries when walking on uneven concrete surfaces. If your concrete shows signs of sinking, you may benefit from obtaining a free repair estimate from Blackburn Foundation Repair by calling toll-free at (800) 392-3389.
Total Concrete Protection
PolyLEVELTM lifts and stabilizes sunken concrete.

Nexus Pro® seals joints and cracks, and won't crack, bubble or dry.

SealantProTM permanently protects your concrete from the elements.
Signs of Sunken Concrete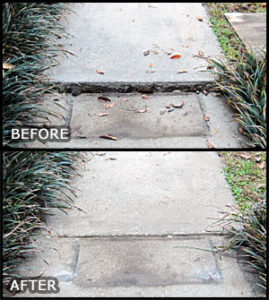 Slab leveling may be necessary after the base of the concrete has shifted or eroded. Sunken concrete displays several obvious signs. The concrete may visibly sink, or uneven sections of the steps and sidewalk may develop. These are the areas most likely to cause harm. In addition, some sections of the concrete slab may display large cracks, or the soil may have washed out from underneath of the slab.
Concrete lifting is generally indicated for any of these situations; however, the method used will often determine the results. Our method for concrete leveling is called PolyLEVELTM, and this allows us to lift slabs of concrete back up to the horizontal plane. This allows our customers to enjoy the confidence of knowing that their concrete structures will be returned to a level position.
The PolyLEVELTM Solution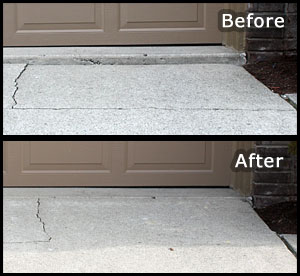 There are several advantages when utilizing the PolyLEVELTM solution. The material is lightweight and strong, and the stability is something that many homeowners can appreciate. This is also a durable waterproof solution, which is comforting to know when there are periods of extensive rain or flooding. The fast-curing product minimizes the amount of time necessary for the entire surface to dry.
PolyLEVELTM is also adjustable, and this is possible because of the unique chemical composition that allows the foam to expand. Our experts are proficient at the many applications of the PolyLEVELTM product. This non-intrusive solution is ideal for confined areas. In addition, our polymer solution can reach up to 90 percent of its final hardness within only half an hour. Where other solutions fail, our company will succeed.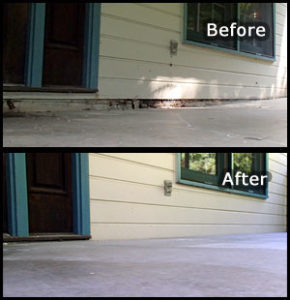 Our methods improve upon the common solutions used in the past, and many of these have been found to be outmoded. For example, concrete raising, grout pumping and slab leveling involve methods that have proven to be inferior to the PolyLEVELTM option. Our company is proud to demonstrate the PolyLEVELTM solution, and this process produces the most reliable and long-lasting results.
Whether you need to lift or realign a slab of concrete that has shifted out of position, we can help you reach your goals. Our specialists are always ready to answer your questions, so contact us today by filling out a free repair estimate or by calling toll-free at (800) 392-3389.
Nexus Pro®
Protect Your Concrete from Soil Erosion with Nexus Pro®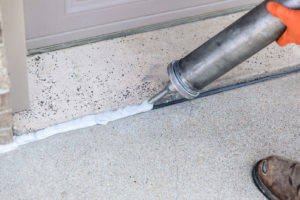 NexusPro® is a silicone-based sealant for joints and cracks specially engineered to provide long-lasting flexibility and to stand up to harsh weather conditions. Unlike traditional polyurethane sealants, NexusPro resists UV rays, which means it won't crack, bubble or dry. It fits into homeowners' busy lifestyles, too – drying time is a fraction of that needed for other urethane-based caulking products.
Highly flexible material.
Seals cracks and joints from water infiltration.
Quick application and drying time.
Stands up to any weather conditions.
UV-resistant to prevent drying, cracking, bubbling or yellowing.
Professional installation ensures clean look.
Proven to last over 20 years—more than twice as long as traditional urethane-based sealants.
SealantProTM
Protect the Life of Your Concrete with SealantPro™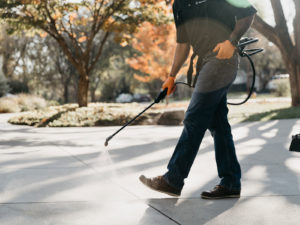 In just one clear, non-yellowing application, SealantPro permanently protects your concrete from its strongest enemies: moisture, chemical elements and seasonal changes. It penetrates deeply into pores and actually bonds with the concrete, creating a strong, permanent barrier. Unlike other concrete sealers, SealantPro's Seal of Protection™ does not wash away or weaken over time. That means your concrete is protected from pitting, flaking and cracking. With SealantPro, concrete stays smooth and stain-resistant.
SealantPro™ System Advantages
One-coat application dries quickly.
Penetrates deep into pores to protect concrete from water damage.
Permanently bonds with the concrete.
Clear, non-yellowing formula.
Won't wash away or weaken over time.
Blackburn Foundation Repair
Blackburn Foundation Repair provides customers with optimal solutions for basement waterproofing, foundation repairs and crawl spaces. Since 1992, we have served the residents and businesses of South Dakota, Wyoming and Nebraska. Our clients include customers from the areas around Sioux Falls, Rapid City, Yankton and Miller. Because there are many issues involving concrete leveling for basement problems, we are proud to offer customers a comprehensive solution, which is called PolyLEVELTM. This is a strong and light-weight alternative to traditional concrete solutions.
We have designed an effective priority system that addresses common problems involving the following areas:Our commitment to customer satisfaction is present in every aspect of our business. From the initial consultation to the final review, you will be amazed at the quality of the results. We hire the most informed staff and knowledgeable professionals in this field, and our specialists are continually upgrading their skills. Our company utilizes a complete team of certified professionals who are dedicated to providing customers with the best products and techniques available today.
Sunken concrete
Slab leveling
Concrete lifting
Concrete leveling
Our services provide exceptional value for concrete leveling in particular. The PolyLEVELTM solution provides unique capabilities for homeowners who need excellent basement repair services. The structures of the home may exhibit a variety of problems, so our company brings the very best methods to our customers in order to meet your needs. We offer estimates at no charge, and we are proud to guarantee all of our work. Contact us today for detailed information on any of our products, services or methods, or call toll-free at (800) 392-3389.