Wet Basement Waterproofing
South Dakota: Sioux Falls, Rapid City, Huron, Yankton, Pierre... | Wyoming: Gillette, Casper... | Nebraska: Scottsbluff, Crawford...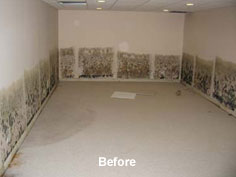 Basements, by design, are imperfect structures. Made of concrete they are built below grade in soil that varies from region to region. Water from the soil leaks into the structure due to pressure. This situation has caused problems for homeowners for over 100 years. Water will enter a basement through the walls, floors and any joints between them. Over the years a wide variety of methods have been developed, by contractors and engineers, to help keep basements dry. As you might expect some methods were more effective than others.
Some of the many possible solutions include:
Exterior Excavation
Interior Sub-floor
Interior Baseboard Systems
Negative-side Sealant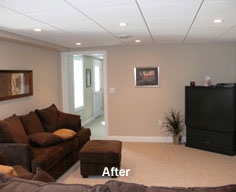 The most effective method is to install an interior sub-floor with a drainage system along the perimeter. The biggest challenge with this method is that the drain can become clogged with mud over time. Homeowners can go years with no problems only to develop one much later due to their sub-surface drains becoming clogged.
A secondary issue for sub-floor systems is how to capture water from the walls while hiding the unsightly gap that those systems can have along the perimeter. This gap can collect dirt and debris as well, which is another factor in the clogging of the drain.
Basement Systems Network's patented WaterGuard system, installed by Blackburn Foundation Repair, is designed to solve these issues, giving you a permanently dry basement. When combined with a South Dakota, Nebraska or Wyoming Sump Pump installation to remove all water collected you have the best of both worlds for any basement in South Dakota, Nebraska or Wyoming including the cities of Sioux Falls, Rapid City, Miller, Aberdeen and Watertown.
Please contact us for a FREE estimate for your wet basement!
WaterGuard Basement Drainage System

Download our WaterGuard Brochure


[964 KB]
Keeping a basement dry has been a challenge for over a century. Contractors have used many methods over the years with varying degrees of effectiveness, though none have been completely successful. Most drainage pipes, the most widely used method, sit at the bottom of the wall and get covered with soil, leading to clogging over time. What good is a system that gets clogged from soil that will then allow your basement to get wet?
Our WaterGuard sub-floor drainage system:
Is engineered specifically to resist clogging, keeping your basement dry.
Our special wall flange creates a space between the floor and the wall that captures wall seepage while also keeping dirt and debris from inside the basement out.
Perforations at the rear of the pipe allow water to flow into the system as well, capturing water that comes up from below too!
Winner of the CQIA Innovation Prize.
WaterGuard is patented in the United States, Canada and the United Kingdom. Our state-of-the-art WaterGuard system is the best, most permanent, solution to YOUR wet basement!