Basement Window Wells
South Dakota | Nebraska | Wyoming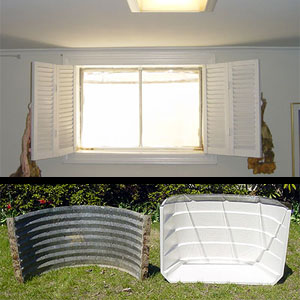 Quality window wells are an important asset in any basement setting. Access to natural light makes the difference in an underground space and the ability to open the windows for ventilation is most definitely a plus.
Blackburn Basement Repair of South Dakota, Wyoming and Nebraska has the perfect solution for your basement window needs. Your home will look more stylish and your attention to detail will stand out when you install SunHouse Window Wells.
SunHouse Window Wells
Are your basement window wells filled with leaves and other debris that make them constantly dark? The SunHouse Basement Window Enclosure will give you an attractive, bright, clean solution that keeps out rain, prevents weeds from growing, and lets lots of natural light into your basement.
If your current basement window wells are rusty or open to the elements, SunHouse basement window enclosures are the perfect solution to keep your window well clean and bright. Window wells without a cover let in leaves and debris, along with rain and gutter overflow water.
Call Blackburn Basement Repair today for a free estimate on replacing your old basement windows and upgrade your home today!