Sump Pumps | Basement DefenderTM
South Dakota | Nebraska | Wyoming
Sump Pump Installation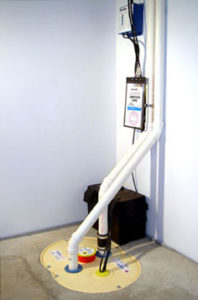 Sump pumps are a key component in keeping your home in South Dakota, Wyoming or Nebraska safe from floods. A quality pump can remove water from your basement quickly and efficiently preventing damage to your home and possessions. With a sump pump from Blackburn Foundation Repair you need not go another day without a hard-working, quality sump pump in your basement.
Get a free sump pump installation quote today by calling us or contacting us online.
Using a Sump Pump
A sump pump works by removing water from your basement and pumping it outside your home. Sump pumps are usually used in conjunction with a perimeter drainage system in the basement. The perimeter drain system guides any water that enters the basement to the sump pump reservoir where the pump pushes the water outside. Flooded basements can be prevented by using a sump pump as your first line of defense.
Sump pumps vary widely in quality, from cheap, unreliable models that plumbers can install to the high quality cast-iron quality Zoeller models installed by Blackburn Foundation Repair. If you're having a plumber return to your home time and again after it rains you need to get a better pump, a Zoeller pump installed by Blackburn!
Backup Sump Pumps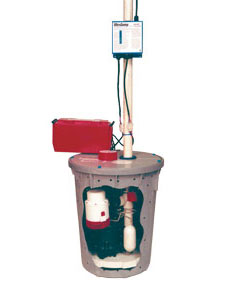 Rain storms can be unpredictable. A light mist can quickly become a torrent. What would happen if your sump pump can't handle the job? What's worse, what would happen if your home lost power when your pump is needed most? A battery-powered backup sump pump can be the difference between having a clean, dry basement and a basement full of dirty water! Even better is a pump that has a secondary pump built in that will kick in if the main pump becomes overwhelmed. Our patented WaterWatch alarm will sound when the pumps turn on, alerting you that water has entered the basement. Our sump pumps offer dual discharge lines, a stronger liner and an airtight floor drain making them the top of their class!
How do you know your sump pumps are working?
Basement Defender™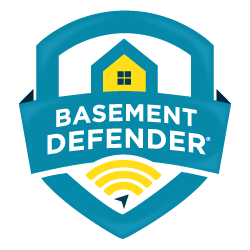 The only way to ensure your pumps are properly working is to test them EVERY DAY.
Basement Defender™ is the only system that TESTS sump pumps every morning and ALERTS to problems before an emergency situation.
It's like having a service technician watching your sump pit activity 24/7.
Every morning, Basement Defender™ activates primary and battery backup pumps to run for a few seconds. We like to think of it as exercising the pumps, so they're in perfect shape to spring into action when you need them to do their job.
Even more, Basement Defender™ is constantly watching for changes in the sump system, like pump activity, battery strength, amperage/voltage and environmental factors like temperature and humidity. When a concern is detected, Basement Defender™ instantly sends an alert to you via text, app notification, or even email. Basement Defender™ is a proactive approach that give ultimate peace of mind in your sump pump system.
Basement Defender™ Features
At 8 AM daily (Eastern Time) the system tests your primary and backup pumps, including:

AC & DC pumps
Temperature
Humidity level
Battery
Charger
WiFi signal strength

Alerts you when issues are detected via email, text, and app notifications
Detects any significant changes using temperature and humidity sensors
Sends alerts and syncs data using your Wi-Fi network
You can use the mobile app to check on the system even when you're away from home
Blackburn Foundation Repair provides a variety of sump pump options. Our SuperSump Premier sump pump system consists of a powerful pump, our WaterWatch alarm and the patented SuperLiner airtight lid. The SmartPump is perfect for you crawl space. It is designed with a unique liner, automatic float switch and a two-piece airtight lid. The UltaSump battery backup system gives you added protection.
Central to keeping your basement dry is a quality sump pump. Blackburn Foundation Repair will help you find the right sump pump system for your South Dakota, Wyoming or Nebraska application. No matter what sump pump solution you need you can rest easy that you are getting the best when you go with Blackburn! Get a free estimate for your sump pump needs today, whether you're in the Sioux Falls area or anywhere else in South Dakota, Wyoming or Nebraska by calling us or visiting us online. Blackburn Foundation Repair is your one stop shop for all your sump pump needs in South Dakota, Wyoming or Nebraska.