Casper - Basement Waterproofing, Foundation Repair, Crawl Space Repair & Encapsulation
Also Offering Concrete Leveling & Radon Testing & Mitigation
Basement Waterproofing, Foundation Repair and Crawl Space Repair, Concrete Leveling and Lifting
Casper, Wyoming

Homeowners in Casper, Wyoming, definitely enjoy the advantages of living in a beautiful part of the country, but the area's climate tends to lend itself to a high incidence of damaged foundations and leaky basements and crawl spaces. Fortunately, the trained professionals at Blackburn Foundation Repair have been successfully solving these problems for Casper residents for nearly 25 years.
Get a free repair estimate from Blackburn Foundation Repair or call toll-free at (800) 392-3389 if you have any concerns about your home's basement, crawl space or foundation.
Basement Waterproofing – Casper, WY
The inclusion of a basement in a home can be great for added storage space or even the creation of an excellent family room, but it's impossible to use a basement for anything when water begins to seep in from the walls, joints and floors. Permanent waterproofing is the answer to this problem, and our patented WaterGuard sub-floor drainage system guarantees that your basement will stay dry thanks to these great attributes.
Completely resistant to clogs
Traps and reroutes water coming from every direction including from below
Includes special wall flange that keeps any dirt from entering the system
Foundation Repair – Casper, WY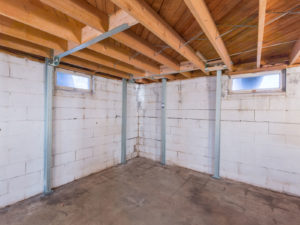 Your home should last you for a lifetime, but it can actually become unlivable when the foundation begins to fail. Those small cracks that you notice in the plaster can easily turn into large cracks, badly bowed walls and sinking floors and fireplaces.
You won't have to worry when you contact Blackburn Foundation Repair because our structural engineers and contractors will use the most professional foundation repair and support services and solutions to ensure that your home is completely protected. We utilize a variety of specific techniques to address every foundation problem.
Push piers
Foundation wall anchors
Foundation earth anchoring
Reinforcement and piercing of crawl spaces
Crawl Space Repair – Casper, WY
A crawl space is actually a vital part of your home that provides the proper access for the repairs of various plumbing and electrical problems, and it also allows for the circulation of air throughout the entire home. Unfortunately, the crawl space is also highly likely to become wet and encourage the growth of mold and mildew. While many homeowners have had crawl space vents installed, that practice has proved to actually make these problems worse.
We utilize our proven CleanSpace crawl space moisture system combined with our CleanSpace liner system to keep your crawl space clean and dry, and here are a few of the highlights of these systems.
Mold resistant
Lifetime warranty
Offers passive radon mitigation
Extra thick plastic vapor barrier for lasting durability
Provides savings on utility bills

Concrete Leveling and Lifting | PolyLEVEL™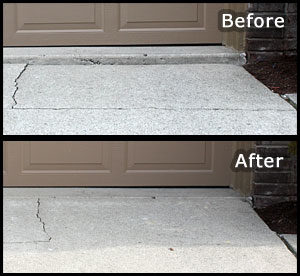 Have you noticed dangerous cracks and uneven surfaces forming in your driveway, sidewalk, concrete steps, or patio?
Having problems with sunken outdoor concrete is not unusual in Casper, WY where soil erosion is often the result of the changing seasons and a weak soil base.
While other contractors may rely on short-term fixes such as mudjacking or slabjacking, we use the revolutionary PolyLEVEL™ material to fix unsettled soil and to level concrete. PolyLEVEL™ is able to physically lift your concrete slabs and return them to their desired level positions while also leveling the ground underneath. This process prevents continued soil settlement, cracking and uneven concrete in the future.
The benefits of PolyLEVEL™ include:
Affordable
Fast-acting
Adjustable
Noninvasive
Environmentally-friendly
Strong and lightweight
Waterproof
Radon Testing and Mitigation in Casper, WY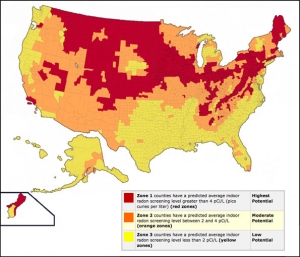 Keeping your Casper, WY home properly maintained serves as a protection for yourself and your loved ones. It ensures your home is a safe place for everyone who enters it. However, there is a hidden threat to your home and the safety of your family that many people don't give realize occurs.
Radon is a radioactive, invisible and odorless natural gas that exists in the ground, drinking water, rock formations, building materials, and many other natural outdoor elements. Radon is classified as a carcinogen, which means that exposure to high levels of this natural gas can increase a person's risk of developing lung cancer. Second only to tobacco use, radon is classified as one of the leading causes of lung cancer in the United States.
With professional radon testing, you can learn the radon level in your home in as little as 48 hours, with accurate and trustworthy results each time. If your home is found to have radon levels that are too high, we also provide detailed radon mitigation systems to help eliminate the existing radon from your home and stop more from coming into your home in the future. Our trained specialists can perform every step of the process, eliminating stress and worry from your life and getting your family back on the road to healthy living.
Help is Available in Casper, WY Today
Each of these problems will only get worse over time if they aren't properly addressed, and you could end up facing serious issues with water damage, mold, mildew and actual structural damage.
Get a free estimate from Blackburn Foundation Repair or call toll-free at (800) 392-3389 if you have any concerns about your home's basement, crawl space or foundation.