Crawl Space Repair
South Dakota | Nebraska | Wyoming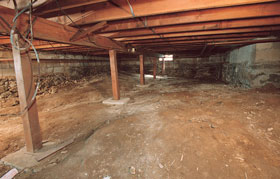 Before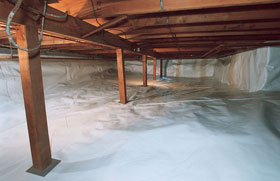 After
A vented crawl space is a damp and mold problem that is just waiting to happen. As damp air makes its way into the home via crawl space vents and doors as well as the walls around the foundation, mold, mildew and rot follows. Allowing the crawl space under your South Dakota home to remain like this is a bad idea because the wood inside the space will get wet and, in time, can lead to expensive damage to the home.
If you have a wet or damp crawl space, odors entering your home from below, crawl space mold, or you're interested in saving on your energy bills through crawl space encapsulation, please don't hesitate to call or contact us today for a free crawl space estimate!
Download a PDF of our crawl space repair products.
Crawl Space Vents are a Bad Idea
Vented crawl spaces, while a good idea in theory, fail due to humidity in the air. The reality is that all crawl spaces experience mold, decay and rot to varying degrees. When a contractor installs a crawl space the goal is to provide an opportunity for air to circulate within the space, allowing moisture to be vented to the outside.
What usually happens however is that air in summer, instead of passing through, enters the space, warms the air which rises making the structure warm and moist too. This warm moist environment allows mold and rot to begin to form.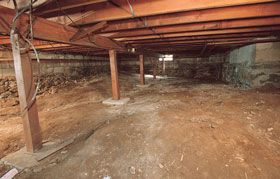 crawl space vents are a problem even in winter, though the problem has nothing to do with humidity from outside. Outside air in South Dakota, Wyoming and Nebraska that enters your crawl space in winter brings unwanted cold into the space. As winter air cools the space your water heater, hot water pipes or ducts will all be cooled and will need more energy to do their job, bringing higher heating bills with it. Another unwanted side effect is the floor on the first level will be affected and will feel cold underfoot. Your family deserves better than this!
Thousands of homes in South Dakota, Wyoming and Nebraska and elsewhere suffer from water damage, bad odors and a generally unhealthy environment due to mold that has worked its way into the wood and anything else organic in the crawl space. The problem doesn't end with the crawl space though as mold and other allergens can work their way into the living areas of the home. Ripping out and replacing moldy rotting wood from a smelly potentially vermin-infested crawl space is going to be difficult and expensive. Repairing the damage is only the first step because the cause of the problem, the crawl space vents, need to be addressed or the problem will return.
Crawl Space Repair Solutions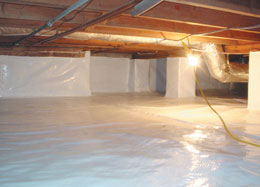 The best option to solve the moisture problem is to seal off the vents and line the crawl space with a plastic vapor barrier. This barrier should be at least 20 mils thick, like the one we use in our CleanSpace crawl space Moisture System. The barrier should be able to keep the area dry and be durable enough so that the crawl space can be used by service personnel without causing damage to it. Repairing and encapsulating your crawl space will save hundreds per year in your natural gas, oil and electricity bills alone. Basement Systems Network estimates that their experienced contractors have saved homeowners more than five million dollars annually. When you count the money saved by homeowners who no longer have to pay for mold remediation again and again, the saving skyrocket!
Our CleanSpace system has a lifetime warranty against deterioration, is mold-resistant and acts as a passive radon mitigation system as well. Using the CleanSpace liner system Blackburn Foundation Repair provides the best way to keep your crawl space clean and healthy for years to come. Our service is fast, professional and warranted, so if you're interested in meeting with a trained, certified crawl space contractor about repairing and encapsulating your crawl space, Blackburn Foundation Repair of South Dakota, Nebraska and Wyoming is here to help.
For a free, no obligation crawl space repair estimate in South Dakota, Nebraska or Wyoming call or go online today!