Foundation Settlement and Leveling
South Dakota | Nebraska | Wyoming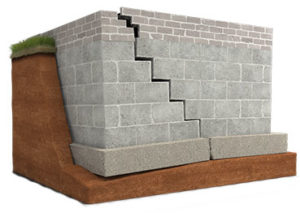 Foundation settlement is usually the first sign of of more serious foundation damage. Early signs include cracks in walls, windows that stick, doors that jam, or even worse, chimneys that begin to tilt. Once it begins the problem only gets worse and more expensive to fix. Therefore it is always best to begin your foundation settlement repairs today!
Many different methods have been used to level settling foundations over the years. They range from fully replacing the entire foundation to less dramatic methods, like the installation of support piers. These solutions vary in their level of success and while all look attractive on the surface not all methods are equal. You need a foundation expert to help you decide which method is best for your application. So, for a free foundation leveling quote, please call or contact us online today!
Foundation Replacement in South Dakota, Nebraska and Wyoming
Foundation settlement is a problem that, once it starts, will continually worsen until it completely compromises the structure, if left untreated. Foundation replacement, one of many ways to fix a failing foundation, is the most expensive, time-consuming and invasive solution.
Foundation replacement is, by definition, very labor intensive. The complete foundation must be exposed. All shrubbery, walkways, stairs, porches, etc. must be removed before work can begin. Of course temporary supports must be erected to keep the structure stable while the foundation walls are rebuilt. When work is complete the foundation is back-filled and graded and the landscaping replaced. Critical to the whole process is the solution of the original cause of the settlement or the repair may be affected as well.
Foundation Piers in South Dakota, Nebraska and Wyoming
Foundation piering installations in South Dakota, Nebraska and Wyoming are usually a combination of a rugged steel pier and a bracket. The bracket connects the pier to the foundation footing with the pier extending deep into the soil below. Piers of this type can perform very effectively in most soil conditions and of course they are backed by our lifetime warranty. Foundation piers come in two types: helical piers and push piers, each with their own individual strengths. Blackburn Foundation Repair of South Dakota is a certified installer of Supportworks Inc.'s (FSI) line of galvanized steel foundation piers. Please call or contact us online for a free, no obligation quote today!
Helical Piers available in South Dakota, Nebraska and Wyoming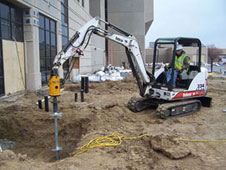 If you need an efficient method for adding structural support to smaller projects then the FSI Helical Pier System is a wonderful option. Patios, porches, steps and other similar structures can benefit from this long-lasting support solution, that features quick installation, usually less than a day. For proper installation the area must be dug out for each unit then the pier, a steel shaft with a corkscrew-like end, is driven into the ground. A bracket is attached to the footing and to the pier making up the complete unit. Helical piers are perfect for old or weak structures but they can also be used in pre-construction or even new construction systems when poor soils are present.
Push Piers installed in South Dakota, Nebraska and Wyoming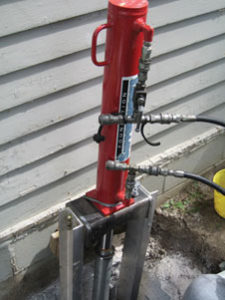 FSI Foundation Push Piers, provided by Blackburn Foundation Repair of South Dakota, Wyoming and Nebraska provide maximum foundation support for your needs. Driven deep into bedrock, or other supporting strata, push piers offer the most support for homes and other heavy structures. Push piers penetrate deeply, without warping or bending because there is very little friction caused during installation. Push piers are perfect for low-impact interior installations as well.
After installation the opportunity to raise the foundation to a more level position can cause the cracks in stucco, brick and other exterior finishes to close. Drywall cracks can be reduced somewhat as well, along with better movement of doors and windows. Even leaning chimneys can show improvement.
If you'd like a free, no obligation estimate to level your settling foundation, call or contact Blackburn Foundation Repair of South Dakota, Nebraska and Wyoming today!
Read more information about repairing bowing or buckling foundation walls.