Basement Waterproofing, Foundation Repair and Crawl Space Repair, Concrete Leveling and Lifting
Black Hills of South Dakota

Residents in the Black Hills of South Dakota are fortunate to be near an abundance of natural beauty and the opportunity to enjoy outdoor activities at popular local sites such as the Black Hills National Forest and the Custer State Park. However, even this gorgeous part of the world has a few drawbacks, and residents of the Black Hills often find themselves dealing with foundations that have become damaged. Basements, foundations and crawl spaces can also suffer from leaks. These issues are largely blamed on the area's climate, and our highly trained professionals here at Blackburn Foundation Repair have been effectively solving these problems for residents in the Black Hills since 1992.
Get a free repair estimate from Blackburn Foundation Repair or call toll-free at (800) 392-3389 if you have any concerns about your home's basement, crawl space or foundation.
Basement Waterproofing – Black Hills, SD
If your home has a basement, then you may have utilized that space for an amazing family room, a game room or even a man cave for the husband, but all of your hard work may be destroyed when your basement is damaged by water. Basements are notorious for taking on water through the floors, walls and joints, and the only permanent method of waterproofing your basement is with our patented WaterGuard sub-floor drainage system. It includes several great features that all work perfectly together to leave you with a worry-free, dry basement.
Completely clog-resistant
Traps water coming from every direction
Keeps any dirt from interfering with the system
Foundation Repair – Black Hills, SD
While most homeowners take excellent care of their most valuable asset, it could all be for nothing if the foundation is neglected. A seriously damaged foundation may cause your home to become so unstable and dangerous that it could actually become unlivable, and you may not notice a problem until you see large cracks, bowed walls and floors that seem to be steadily sinking. You should check your foundation regularly for any cracks, and don't hesitate to contact the professionals for help as soon as possible because problems are much easier and less expensive to fix during the early stages.
We're proud to employ top structural engineers and contractors who know exactly which techniques will best address your particular foundation issue. These are just a few of the solutions that we may use to ensure that your home is completely protected.
Strong reinforcement of crawl space
Installation of push piers
Wall anchoring
Earth anchoring
Crawl Space Repair – Black Hills, SD
Crawl spaces in this area often become extremely wet, which promotes the growth of dangerous mold. Fortunately, our CleanSpace moisture and liner systems are designed to work together to keep your crawl space dry and clean. These are just a few of the excellent benefits that you may expect from these popular systems.
Resistant to mold and mildew
Full 25-year warranty
Provides passive radon mitigation
Long-lasting durability due to thick vapor barrier
Lower utility bills
Concrete Leveling and Lifting | PolyLEVEL™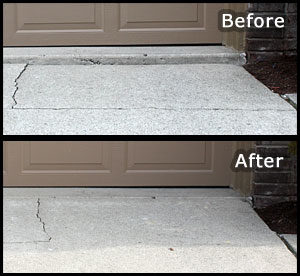 Have you noticed dangerous cracks and uneven surfaces forming in your driveway, sidewalk, concrete steps, or patio?
Having problems with sunken outdoor concrete is not unusual in the Black Hills of South Dakota where soil erosion is often the result of the changing seasons and a weak soil base.
While other contractors may rely on short-term fixes such as mudjacking or slabjacking, we use the revolutionary PolyLEVEL™ material to fix unsettled soil and to level concrete. PolyLEVEL™ is able to physically lift your concrete slabs and return them to their desired level positions while also leveling the ground underneath. This process prevents continued soil settlement, cracking and uneven concrete in the future.
The benefits of PolyLEVEL™ include:
Affordable
Fast-acting
Adjustable
Noninvasive
Environmentally-friendly
Strong and lightweight
Waterproof
Help is Available in the Black Hills Today
If you suspect that you may be dealing with any of these issues, please don't hesitate to contact us right away.  Get a free repair estimate from Blackburn Foundation Repair or call toll-free at (800) 392-3389 if you have any concerns about your Black Hills of South Dakota area home basement, crawl space or foundation. We'll send a technician out to carefully evaluate the situation and offer you a completely free estimate.