Basement Waterproofing, Foundation Repair and Crawl Space Repair, Concrete Leveling and Lifting
Britton, South Dakota

Britton, South Dakota is a city where residents enjoy a variable climate, but the moisture can cause problems for their homes in several ways. Since 1992, Blackburn Foundation Repair has been offering high-quality waterproofing and repair services to residents in South Dakota, Nebraska and Wyoming.
Get a free repair estimate from Blackburn Foundation Repair or call toll-free at (800) 392-3389 if you have any concerns about your home's basement, crawl space or foundation.
Basement Waterproofing – Britton, SD
There may be a rising water table under a home's foundation because of underground water sources. Precipitation can also collect in the surrounding soil and seep into the basement through cracks in the foundation. Our professionals know how to identify risks and solve them with proper waterproofing. Some common techniques include:
Interior sub-flooring
Exterior excavation
Interior baseboards
Negative-side sealant
A sub-floor is one of the most effective solutions when combined with a proper drainage system. However, these systems may become clogged. A good solution is to collect the water before it reaches the drain. Our WaterGuard Basement Drainage System from the Basement Systems Network is the perfect solution. It resists clogging, flows easily and is designed with extra space to capture water seepage between the floor and wall.
Foundation Repair – Britton, SD
Over time, foundations can shift and sag as the ground below them changes. Our specialists are experienced in techniques such as:
Crawl space reinforcement
Crawl space piering
Foundation wall anchoring
Foundation ground anchoring
Push piering
We also offer other solutions for weakened foundations. Small cracks in the drywall or plaster and doors or windows that are harder to open are the first signs of foundation problems. Sagging chimneys and bowed walls are also areas of concern. With foundation issues, immediate attention is a must. These problems become more expensive and more difficult to fix as time passes. With our permanent and effective solutions, we restore foundations to be sturdy and safe.
Crawl Space Repair – Britton, SD
Crawl spaces with cracks or vents can cause many problems. The cold air that seeps in can make the floors colder and lead to higher energy costs for heating the home. When moisture enters through the cracks, it can cause mold and mildew. Moisture damage can lead to wood rot and may also encourage pest infestations. Our top solution is to seal off any vents and fix additional cracks or leaks. To control moisture, we suggest our effective CleanSpace Moisture Management System. The system is resistant to mold, has a lifetime warranty and is also serves as a radon mitigation tool.
Concrete Leveling and Lifting | PolyLEVEL™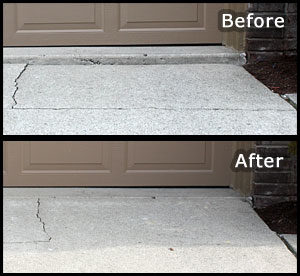 Have you noticed dangerous cracks and uneven surfaces forming in your driveway, sidewalk, concrete steps, or patio?
Having problems with sunken outdoor concrete is not unusual in Britton, SD where soil erosion is often the result of the changing seasons and a weak soil base.
While other contractors may rely on short-term fixes such as mudjacking or slabjacking, we use the revolutionary PolyLEVEL™ material to fix unsettled soil and to level concrete. PolyLEVEL™ is able to physically lift your concrete slabs and return them to their desired level positions while also leveling the ground underneath. This process prevents continued soil settlement, cracking and uneven concrete in the future.
The benefits of PolyLEVEL™ include:
Affordable
Fast-acting
Adjustable
Noninvasive
Environmentally-friendly
Strong and lightweight
Waterproof
Call Blackburn Foundation Repair
We use specialized techniques that save money and yield the best quality. Our reliable services are guaranteed for the life of the building. We are a member of the Basement Systems Network, which provides the most recent high-quality systems and is one of the world's largest waterproofing networks.
Get a free repair estimate from Blackburn Foundation Repair or call toll-free at (800) 392-3389 if you have any concerns about your Britton, South Dakota home basement, crawl space or foundation.