Basement Waterproofing, Foundation Repair and Crawl Space Repair, Concrete Leveling and Lifting
Newcastle, Wyoming

Providing top-notch basement waterproofing, foundation repair and crawl space repair, Blackburn Foundation Repair was established in 1992. Our services are available to businesses and residents in Newcastle, Wyoming, who have structural or water issues. Our team of contractors and engineers use less expensive but neater techniques than traditional repair methods, which save you money and time. Learn how we can solve your basement, foundation and crawl space problems.
Get a free repair estimate from Blackburn Foundation Repair or call toll-free at (800) 392-3389 if you have any concerns about your home's basement, crawl space or foundation.
Basement Waterproofing – Newcastle, WY
Basements are made of concrete and built below grade in the ground. The soil can leak water into the structure through floors, walls and the joints between them because of pressure. This has been a problem for more than a century, so contractors and engineers have developed various solutions for waterproofing basements:
exterior excavations,
interior baseboard systems,
interior sub-floors, and
negative-side sealants.
Installing an interior sub-floor and a drainage system along the basement perimeter is the most effective method for keeping the space dry. Our patented WaterGuard system is designed with a special wall flange that creates an area between the floor and wall to capture water leaks while preventing debris and dirt from building up. With an additional sump pump to remove all of the collected water, you no longer have to worry about a wet basement.
Foundation Repair – Newcastle, WY
There are several signs of a failing foundation, including small cracks in drywall or plaster and stuck doors or windows. If these issues aren't repaired, they can turn into bowed walls, larger cracks or sagging chimneys. With progressed damage, the foundation could completely fail. Some of the techniques that our contractors and structural engineers use to repair these problems include
earth anchoring,
leveling,
underpinning, and
wall anchoring.
Sagging floors or joists can also be an issue in buildings with crawl spaces, and this is usually caused by improperly spaced columns, settling columns or weak foundation soil. The best way to approach these issues is to repair the underlying issue as soon as possible. One option is our SmartJack Crawl Space Foundation Support System, which consists of galvanized steel columns that can hold more than 60,000 pounds and can be installed within a day. The columns also address weak foundation soil and are easy to adjust.
Crawl Space Repair – Newcastle, WY
Problems with crawl spaces often occur when they are vented. Although the purpose of crawl space vents is to allow air to circulate so that moisture escapes, they allow damp air to enter the space during the summer. The moisture that accumulates in this dark and warm space creates an environment for the development of decay, mold, mildew and rot. Mold that works its way into the wood can spread and lead to
an unhealthy living environment,
bad odors, and
water contamination.
Another problem occurs in the winter: The intrusion of cold air from outside. This generally results in higher energy costs because the central heating system and water heater have to work harder to combat the cooler ducts and water pipes.
The best approach to getting rid of the mold, mildew and rot is to rip out and replace the wood. The next step is to repair the underlying problem with a CleanSpace Moisture System, which provides a plastic vapor barrier and seals the vents. The barrier keeps the area dry and blocks cold air from entering to save on energy costs. It's even compatible with our SmartJack Crawl Space Foundation Support System.
Concrete Leveling and Lifting | PolyLEVEL™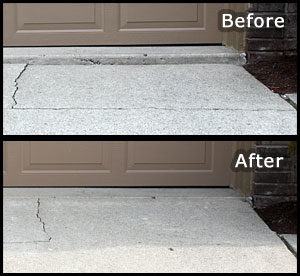 Have you noticed dangerous cracks and uneven surfaces forming in your driveway, sidewalk, concrete steps, or patio?
Having problems with sunken outdoor concrete is not unusual in Newcastle, WY where soil erosion is often the result of the changing seasons and a weak soil base.
While other contractors may rely on short-term fixes such as mudjacking or slabjacking, we use the revolutionary PolyLEVEL™ material to fix unsettled soil and to level concrete. PolyLEVEL™ is able to physically lift your concrete slabs and return them to their desired level positions while also leveling the ground underneath. This process prevents continued soil settlement, cracking and uneven concrete in the future.
The benefits of PolyLEVEL™ include:
Affordable
Fast-acting
Adjustable
Noninvasive
Environmentally-friendly
Strong and lightweight
Waterproof
Call Blackburn Foundation Repair
Get a free repair estimate from Blackburn Foundation Repair or call toll-free at (800) 392-3389 if you have any concerns about your Newcastle, Wyoming home basement, crawl space or foundation.