Basement Waterproofing, Foundation Repair and Crawl Space Repair, Concrete Leveling and Lifting
Sheridan, Wyoming

Blackburn Foundation Repair has proudly served Wyoming residents since 1992. We offer a variety of different professional solutions for basement, foundation, crawl space issues, and concrete leveling/lifting. We are members of the Basement Systems Network, which allows us to keep current with the latest technological advances in basement repair services. Many residents in and around Sheridan, Wyoming trust us to help them to keep their basements dry during the hot, wet summers. With our help, you can keep water out of your basement so that it can remain dry. We can also help you with your foundation repair and crawl space repair needs so that your home can remain in great condition.
If you are concerned about your basement, concrete, crawl space or foundation, call Blackburn Foundation Repair today at (800) 392-3389. We will be happy to provide you with a free estimate for the repairs that you need.
Basement Waterproofing – Sheridan, WY
During the spring and summer months in Sheridan, it is common for residents to experience as many as 10 or more days of precipitation each month. When it is wet outside, water can seep into your basement through the floors, walls and joists. Water leaks in your basement can cause mold and damage, making it important for you to get basement waterproofing services when you first notice a leak. We can help to solve your basement leak problems by installing the patented WaterGuard drainage system from the Basement Systems Network. This system helps to solve some of the issues that can come from clogged drains in other systems. If you combine it with a professionally installed sump pump, our system can offer you the following solutions:
Keeps dirt from accumulating and clogging the system
Keeps your basement permanently dry
Uses a flange in the wall to prevent seepage
Uses a perforated pipe to trap water rising from below the floor
Foundation Repair – Sheridan, WY
If you notice that some of your doors or windows are sticking, you may need to have your foundation repaired. Other signs that you might have a foundation problem include cracks that are appearing in your drywall. Blackburn Foundation Repair has structural engineers and professionals who are able to use a variety of different techniques to shore up a failing or weakened foundation so that it might be permanently repaired. One option is our SmartJack Crawl Space Foundation Support System, which consists of galvanized steel columns that can hold more than 60,000 pounds and can be installed within a day. The columns also address weak foundation soil and are easy to adjust. We are able to offer all of the following services to strengthen your foundation:
Installation of push piers
Foundation earth anchoring
Foundation wall anchoring
Reinforcement and piering of your crawl space
Crawl Space Repair – Sheridan, WY
Many different problems can originate in crawl spaces. These spaces under your house may gather moisture that rots wood and leads to mold problems in your home. During the cold winter months in Sheridan, cold air that is trapped in your crawl space may make your floors feel frigid. Cold air that seeps up into your home from your crawl space can make it more difficult for you to keep your home heated, leading to higher utility bills. At Blackburn Foundation Repair, we use trained and certified contractors who use the latest techniques to seal your crawlspace and prevent problems. We use the CleanSpace Moisture System to keep moisture and cold out of your crawl space, which can offer the following benefits:
Keeps moisture and cold air out
Offers passive radon resistance
Comes with a lifetime warranty
Durable, 20-mm thick plastic barrier
Resists mold
Concrete Leveling and Lifting | PolyLEVEL™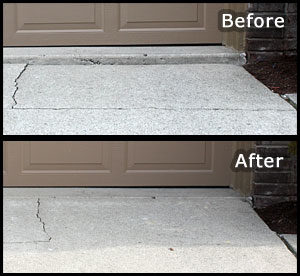 Have you noticed dangerous cracks and uneven surfaces forming in your driveway, sidewalk, concrete steps, or patio?
Having problems with sunken outdoor concrete is not unusual in Sheridan, WY where soil erosion is often the result of the changing seasons and a weak soil base.
While other contractors may rely on short-term fixes such as mudjacking or slabjacking, we use the revolutionary PolyLEVEL™ material to fix unsettled soil and to level concrete. PolyLEVEL™ is able to physically lift your concrete slabs and return them to their desired level positions while also leveling the ground underneath. This process prevents continued soil settlement, cracking and uneven concrete in the future.
The benefits of PolyLEVEL™ include:
Affordable
Fast-acting
Adjustable
Noninvasive
Environmentally-friendly
Strong and lightweight
Waterproof
Call Blackburn Foundation Repair Today
If you are experiencing problems with your basement, foundation or crawlspace in Sheridan, Wyoming, call Blackburn Foundation Repair to get your free repair quote. We can be reached toll-free at (800) 392-3389, or you can fill out our online form to get your free inspection and estimate.