Energy Recovery Ventilator
South Dakota | Nebraska | Wyoming
Mitigating Radon Dangers with an Energy Recovery Ventilator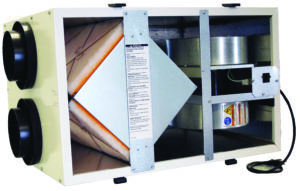 An energy recovery ventilator, or ERV, performs two key tasks that help decrease radon levels in homes and commercial buildings. First, it creates positive air pressures in lower levels of buildings. Second, it improves the flow of fresh air throughout the building. Because the air pressure in buildings is naturally lower than what is outside, gases that are found naturally in surrounding soils are pulled indoors. For buildings constructed on top of radon-filled soils, this can create many real dangers. By changing the air pressure and improving air flow throughout the structure, we can help you lower radon levels and improve your health.
Through the National Radon Defense network, our professionals at Blackburn Foundation Repair can install energy recovery ventilators in buildings that are not ideally suited for standard radon mitigation systems, such as soil depressurization. For example, ERVs are commonly used in buildings that do not have easily accessible crawl spaces as well as for earth homes. It is particularly helpful in large commercial spaces as well. Because of the many benefits of the ERV, some clients actually prefer this system to traditional radon mitigation systems.
Energy Efficient Air Freshening
To create a warmer home in the winter or a cooler home in the summer, it is common to seal cracks around windows, doors and pipes to ensure that there is no outdoor air seeping into the home. Not only can this create a more comfortable home, but also it can help you save money. However, this energy efficiency can cause problems with negative air pressure in the home, feeding into the problems of radon seepage through the foundation or crawl space. Thankfully, a ventilation systems, such as the ERV, can solve this dilemma by directing fresh air into the home.
Contact Blackburn Foundation Repair of South Dakota, Nebraska and Wyoming today at 1 (800) 392-3389.
Improved Air Quality Through Quality Ventilation
Another problem that occurs with tightly sealed homes is increased indoor air pollution. When pollutants are caught in your home, it may be nearly impossible for them to get out, and this can lead to long-lasting household odors, stale air and even condensation on the insides of windows. The ERV can also help with each of these concerns by continually circulating fresh air throughout the house. The energy recovery ventilation system can be used along with the existing HVAC system, or it can be installed on its own through special ducts.
Fresh Indoor Air Year-Round
The energy recovery ventilator system is far superior to other ventilation systems thanks to its many uses. Not only can it pull in fresh air while getting rid of stale air, but also it can balance out temperatures and humidity all year long. In the winter, the system will heat the incoming air, and in the summer, it will cool and reduce the humidity in this same air. In addition, it creates safer indoor air by getting rid of such dangerous gases as radon, formaldehyde and carbon dioxide.
Safe and Healthy Indoor Air with the ERV
Blackburn Foundation Repair can help you enjoy safer, fresher air in your home or business with an energy recovery ventilation system that can be seamlessly added to your existing HVAC system. If you would like more information about this system or want to know if it might be right for your home or business, contact Blackburn Foundation Repair of South Dakota, Nebraska and Wyoming today at 1 (800) 392-3389. You can also ask us about our free, no-obligation service estimates.