Radon Filtration - Breathe EZ Air Cleaner
South Dakota | Nebraska | Wyoming
Filter Home Air with the Breathe EZ Air Cleaner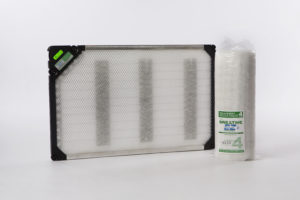 With professional air filtration for your entire home, you can remove such unwelcome guests as allergens, mold and radon from the air you breathe. While you cannot see the microscopic particles that float through your home's air or the gases that wreak havoc on your health, your body will easily recognize their presence.
The forced-air HVAC systems that are installed in most homes today blow germs, allergens, gases and more throughout the home's air, which can significantly increase air pollution in the place where you feel safest. The problems that can arise from this include allergies, headaches, itchy skin and even asthma flare-ups. Collectively, these problems are known as sick building syndrome.
Blackburn Foundation Repair in South Dakota, Nebraska and Wyoming can reduce indoor air quality concerns with a professionally installed Breathe EZ Air Cleaner. As part of the National Radon Defense network, we have the knowledge and expertise to help you create a safer and more healthful home.
Limited Results with Standard Air Filters
While many people rely on their HVAC filters to protect their homes from common sources of pollution, they do not usually realize that the filter is in place to protect the HVAC system more than it is to protect their health. These filters are designed to catch larger dust particles that would otherwise collect on the blower motor and fans. However, they cannot collect smaller pollutant particles, such as mold, bacteria and an array of allergens. In addition, they fail to filter out volatile organic compounds (VOCs) or to remove odors from the air. For this reason, your HVAC system is actually participating in the indoor air pollution problem at your house rather than helping to solve it.
You may think that investing in a more expensive air filter will solve your problem. However, these options can harm your HVAC system by increasing the workload of pushing air through a dense filter.
Proven Results with Electronic Air Filtration
On the other hand, electronic air filters, such as the Breathe EZ Air Cleaner, are highly effective and are quite simple for homeowners to use. This type of filter overcomes both problems that standard filters have because they are able to trap even very small pollutants in the air without clogging.
Instead of being made of a fine mesh, the Breathe EZ Air Cleaner uses electrically charged particles to attract pollutants and affix them to the charged filter. The good news is that this trapping of pollutants occurs even though the filter has a very open weave. Therefore, it does not harm your HVAC system. In addition, the filter absorbs a variety of common household odors.
Decreased Health Concerns with the Breathe EZ Air Cleaner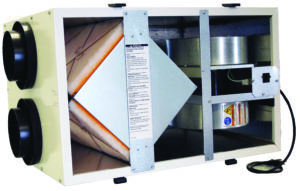 While radon gas cannot be specifically filtered out of the air with either type of filtration system, the Breathe EZ Air Cleaner can reduce some of the health problems that are commonly related to radon. For example, as radon decays, it creates solid products that stick to the dust in your home as well as to a variety of other surfaces. When you breathe in this affected dust, you are inhaling radon and are at an increased risk of developing lung cancer.
Although standard air filters cannot get rid of these tiny particles, the Breathe EZ Air Cleaner can. Clinical trials have shown that this filter got rid of 98% of airborne radioactive elements. Because it can be professionally installed in your HVAC system's filter space, it is a simple and smart solution to help you reduce your risk of developing lung cancer over time.
In addition, if you have high levels of radon in your home's air, you should also have Blackburn Foundation Repair install a radon mitigation system to remove dangerous gases from the soil beneath your home. The Breathe EZ Air Cleaner will become a backup form of protection for your household.
Improved Air Quality at Home with Proven Filtration
Blackburn Foundation Repair of South Dakota, Nebraska and Wyoming can help you enjoy cleaner, healthier air in your home with the Breathe EZ Air Cleaner, which is designed to fit into virtually any HVAC system. During setup, our technician will also show you how you can easily maintain the filtration system throughout the year.
Discover cleaner indoor air today by calling Blackburn Foundation Repair at 1 (800) 392-3389.