Radon Mitigation
South Dakota | Nebraska | Wyoming
When it comes to getting rid of dangerous radon gas in your home, you can trust the experts at Blackburn Foundation Repair, which serves South Dakota, Nebraska and Wyoming. Our at-home consultations give our customers a chance to ask any questions they have while letting us test for radon gas. We stand behind our friendly customer service, and we will work with you to schedule an appointment time that is most convenient for you.
Working with a knowledgeable and experienced professional from Blackburn Foundation Repair will begin with a free at-home consultation that comes with no obligation to you. This appointment will give you more information about the health and safety of the air you breathe in your home every day. During this appointment, we can discuss the overall layout of the home along with the best radon mitigation options available today. Of course, we will also be able to discuss costs and payment plans, but you will be glad to know that our radon mitigation fees are designed to be affordable for the average homeowner.
Most of the time, this comprehensive consultation takes approximately one hour. This gives us enough time to analyze your home thoroughly and answer any questions you have. We make it our goal to explain the dangers of radon as well as our proposed mitigation techniques so that you can feel confident in the treatment service you choose. Our experts from Blackburn Foundation Repair will also provide you with a hard copy outlining the services that you and our service technician decide upon together. We encourage you to call our office today at 1 (800) 392-3389 to get started with your free service quote.
Proven Radon Mitigation Treatments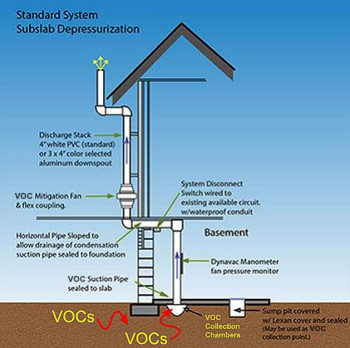 Radon mitigation or abatement techniques are typically quite successful, and many companies today can offer 99 percent success rates. While there are many mitigation systems from which you can choose these days, we encourage you to talk with a Blackburn Foundation Repair expert who can guide you toward the right decision for your home.
Today, there are several familiar and proven methods for reducing radon exposure in home air, and these include such options as sealing, natural ventilation, energy recovery ventilation and air filtration. However, the Environmental Protection Agency recommends options that prevent radon from entering the home in the first place rather than methods that remove radon that continues entering the home. Therefore, suction and similar methods that remove radon from the soil beneath the home are generally seen as being the best and most logical radon mitigation techniques.
Radon mitigation experts from Blackburn Foundation Repair are trained through the National Radon Defense network using the newest techniques in the industry. Our teamwork with this network ensures that you get a safe, custom-designed system for your home that takes your foundational materials and home design into account. We typically use the following steps to install radon mitigation systems at homes in South Dakota, Nebraska and Wyoming.
Decreasing stack effect
Stack effect refers to the presence of warm air in the home that escapes into the cooler outdoor air, which frequently occurs during the winter. Because the home rushes to replace this air, we can help to depressurize the soil under the home to redirect this effect.
Creating a suction point
The suction point is a hole drilled into a foundation or crawlspace. Sometimes, more than one point must be drilled. These points give us areas from which we can vent the radon out of the home through a pipe.
Venting out radon gas
The installed pipe is often attached to a fan to improve airflow out of the home.
Sealing entry points
We will caulk any cracks or holes in foundations to stop radon from entering the home.
Performing the final inspection
Radon mitigation experts ensure that each point of the system is installed and working properly.
Performing a follow-up test
We come back to the home approximately 30 days following installation to make sure that the radon mitigation system is removing radon gas as it should.
While we keep radon mitigation systems as affordable as possible at Blackburn Foundation Repair of South Dakota, Nebraska and Wyoming, we know that they are not always easy to fit into your budget. Therefore, we offer a variety of payment plans and pricing options to help you create a safe home environment. Call us today at 1 (800) 392-3389 to learn more.